Date and Time: 22 to 25 Nov 2012 from 11am to 9pm.
Date of Competition: Sunday 25 Nov 2012 from 1pm to 4:30pm.
Venue: SITEX Exhibition, Singapore Expo, Hall 4B
Category: Robot Holonomic Tracker

What is the game about?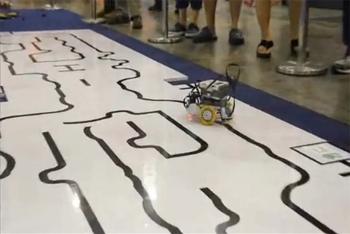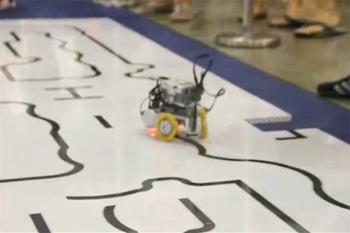 The competition is for the fastest line tracking robot.
The continuous track will be constructed using Plegofield. (see http://www.plegofield.com) The exact turns and curves for the playing field will not be disclosed until the competition date. Nevertheless, if you have a Plegofield, your track will be exactly as good. The robot is expected to complete the whole circuit. The fastest robot to complete wins. If no robot completes the circuit, the robot covering the furthest distance wins.
Each robot is allowed up to 3 tries and the best attempt will be accepted. This is to allow students to even load 3 different sets of programs to encourage them to try out new strategies.
Timing will be to the nearest hundredth of a second and measured when the front of the robot crosses the finish line. If the top 3 winners' timings are too close to determine a winner, the judges may decide on another round just to determine the winners.
To add more challenge to the participants, the robot must be on at least 3 Holonomic Wheels and nothing else should be touching the playing field.
Officials appointed by SMS will be the judges and the judges' decision is final.
Terms and Conditions
Procedures
Participants may start test their robots any time during 22-25 Nov 2012.

Competition starts from 2pm to 4:30pm when participants who are ready can have the timing officially recorded.

Prizes will be awarded after 4:30pm.
Participants
All primary and secondary school students can take part.

ONE student per team.

They do not need to be from the same school.

Individuals are also allowed to register themselves.

There is no limit to the number of teams from any school.

Participants' name and school will be listed on site.

No need to wear school uniform. You may choose to come in your team uniform!
Robots
Maximum weight for the robot is 1Kg.

Must be battery operated.

Can use Lego RCX, NXT and any other controllers.

Can be constructed with any material. No liquid. No fire.

Must be on at least 3 Holonomic Wheels and n

othing else should be touching the playing field. Details of these wheels are available at http://www.holonomicwheel.com
Only single lines and curves http://www.plegofield.com will be used in the playing field. No fork, no broken line, no slope and no obstacle. Right angles and U-turns are expected.

Must be autonomous and not remotely controlled.

No limit to the type of sensors used.

Computers and batteries are not provided. Please bring your own.
Registration fees
FREE for any number of students
NO REGISTRATION FEE is required due to support by our sponsors.
Benefits
Holonomic wheels can be purchased at SG$12 each (normal price is $15 each). Free delivery by post.

Each Plegofield set costs $380. Free delivery worth $20.

Discounted fee of just $20 for membership to Singapore Microcomputer Society (Normal fees are $40 + $20 joining fee) See http://www.sms.org.sg

Parents or grandparents of participants may also join SMS for $30 (Normal $60 + $20 joining fee)
Prizes
Champion gets a

Certificate of Distinction (Champion)

First Runner-Up a

Certificate of Distinction (First Runner-Up)

Second Runner-Up gets a

Certificate of Distinction (2nd Runner-Up)

Every participant will receive:

A Certificate of Recognition by SITF.

2 Cobra Cables (0.6m and 1.2m). See

Cobra Cables

sponsored by Hiwire Data & Security Pte Ltd.

2 super soft sponge brushes.

Winners get to pick any of the prizes with the Champion having priority:

A set of 3 Holonomic wheels

3 sets of Vehicle Cameras

1 Philips Web Camera

1 Philips Clamp-on Table Lamp with energy efficient bulb.

4 sets of panoramic lens for iPhone to take 360 degrees photos and videos.

PurerAire.

Creative books.

More prizes will be added based on sponsors.

(All prizes are without warranty.)